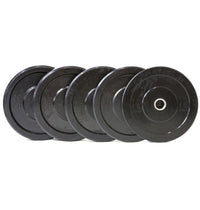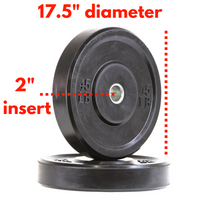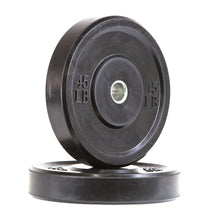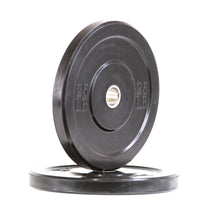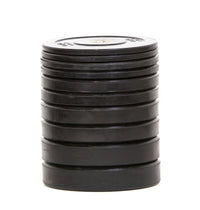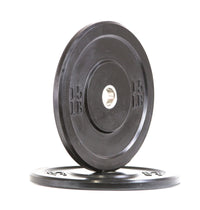 ETE
260lb Bumper Plate Set $0.79/lb
2 each: 45lb, 35lb, 25lb, 15lb & 10lb

Made from 100% virgin rubber, our 260lb bumper plate set has long been a favorite for home affiliate boxes and other lower use settings. This weight set is the perfect addition to any home gym, functional fitness facility, high school gym, and more.

Extreme Training Equipment offers many weight sets that deliver premium quality for athletes and weightlifters of all levels. Each plate is made with high-density rubber that can withstand any gym or training facility. With a steel collar insert, the bumper weight plates are designed to fit any standard barbell with ease, providing a secure and stable workout. The plates reduce noise and absorb shock, making them an ideal choice for indoor and outdoor use. Whether you're performing Olympic lifts, deadlifts, or squats, these bumper weight plates provide a comfortable and safe lifting experience. Extreme Training Equipment offers durability, quality, and excellence with our 260lb bumper plate sets.
Our 260lb bumper weight plates feature durable steel inserts that are a step above the common brass insert that can come loose. Safeguard your bumper plate investment by dropping on rubber flooring and using the proper technique. 10lb and 15lb bumpers should only be dropped when outside of larger bumper plates. The bumper plates have a +/- 1% weight tolerance. Check out our bumper plate set page to view more available options.

Equipment Specs:
100% Virgin Rubber
Steel Inserts
Plate Width: 10 lb - 7/8", 15 lb - 1 3/8"", 25 lb - 1 7/8", 35 lb - 2 5/8", 45 lb - 3 1/4"